Kaillera server:
gs.emu-land.net:27888
Mednafen server:
gs.emu-land.net:4046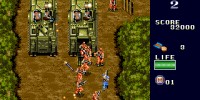 SpecEmu v3.2 build 25.06.22
19:25, 27-06-2022
Zykon
Обновился эмулятор
ZX Spectrum
-
SpecEmu
- Debugger's cycle-accurate display update option now only displays pixels up to the raster location in the current frame - Debugger's Run To conditions correctly override +3 floppy controller breakpoints - Fixed right-hand edge corner curves being slightly wrong in fullscreen mode - Fixed RETI/RETN interrupt behaviour - Added some (useless, atm :p) conditional breakpoint "documentation"
VBA GX v2.4.6
23:19, 16-06-2022
Zykon
Обновился эмулятор
Game Boy / Color / Advance
для
Wii
и
Game Cube
-
Visual Boy Advance GX
.
- Compiled with latest devkitPPC/libogc - Added "Enable Turbo Mode" toggle to the Video Settings menu (based on InfiniteBlueGX's code) - Updated translations - Improved forwarder support
FCE Ultra GX v3.5.2
23:17, 16-06-2022
Zykon
Обновился эмулятор
NES
для
Wii
и
Game Cube
-
FCE Ultra GX
.
- Updated to the latest FCEUX 2.6.4 - Compiled with latest devkitPPC/libogc - Added "Enable Turbo Mode" toggle to the Video Settings menu (based on InfiniteBlueGX's code) - Updated translations - Improved forwarder support - Added ability to use "Original" render mode in 480p configurations - Added more color palettes
Snes9x GX v4.5.3
23:15, 16-06-2022
Zykon
Обновился эмулятор
SNES
для
Wii
и
Game Cube
-
Snes9x GX
.
- Compiled with latest devkitPPC/libogc - Updated to latest Snes9x - Added "Enable Turbo Mode" toggle to the Video Settings menu (based on InfiniteBlueGX's code) - Updated translations - Improved forwarder support - Added ability to use "Original" render mode in 480p configurations - Added new speeds for Super FX overclocking - Added a toggle to hide/show the SRAM save button in the save menu UI - Added Scale2x video filter and rename Scanlines filter - Adjusted scanline filter
nemulator v4.4
23:59, 14-06-2022
Zykon
Обновился эмулятор NES (Famicom, Dendy) - nemulator.
- NES: Four-screen mirroring fixes for Holy Diver MMC1 version - NES: Sprite DMA fix for Dusty Diamond's All-Star Softball - NES: PPU rewrite - NES: PPU timing changes to fix random crashes in Battletoads level 2 - NES: vblank/NMI timing changes to fix glitches in Kick Master, Wolverine, and others - NES: Emulate pixel ouput pipeline (demo_ntsc.nes) - NES: Remove fast emulation mode - NES: MMC5 IRQ handling improvements - NES: Allow writes to MMC5 PRG-ROM area (fixes Bandit Kings of Ancient China) - NES: Disallow palette writes while rendering (fixes flashes during Solstice intro) - SMS: R register fix for Reggie Jackson Baseball (pitcher never pitches) - SMS: R register fix for Impossible Mission (same map used every game) - SMS: Adjust VDP IRQ timing (fixes Black Belt screen split glitches) - GB: LYC changes to fix glitch in Link Awakening's title screen - GB: Various PPU fixes (now passes dmg-acid2 test)
EightyOne V1.29
23:54, 14-06-2022
Zykon
Обновился эмулятор
ZX Spectrum
-
EightyOne
.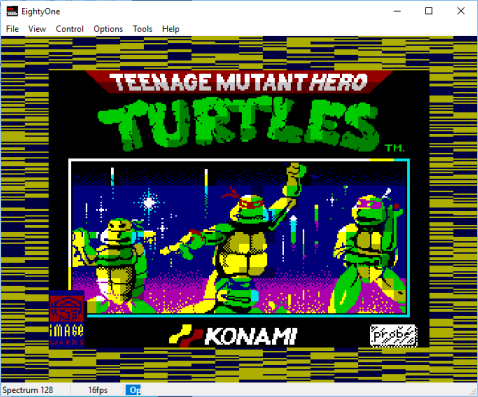 Bug fixes: - The Jupiter Ace beeper port now partially decoded - The Jupiter Ace ROM can now be overwritten if the 'Protect ROM from Writes' option is not selected - Beeper sound setting now restored from the .ini file - Now insensitive to the case of the ROM file name Changes: - Retired support for the homebrew Spectrum SE Enhancements: - Clock accurate emulation of the display mechanism of the ZX81 family of models - Accurate emulation of the display mechanism of the ZX80 - Annotation facility of display elements for ZX80 and ZX81 family of models - Displays the number of scanlines in the status bar - Beeper sound for ZX81 models now optionally includes rendering of HSync pulses - Support for Wilf Rigter's Improved Wait circuit - The main window now always gains focus at start up - More robust joystick movement detection
Stella v6.7
23:49, 14-06-2022
Zykon
Обновится эмулятор
Atari 2600
-
Stella
.
- IMPORTANT NOTES: - Because of fixes to JSON handling, all remappings will be reset to defaults; if you had custom mappings, they will need to be re-entered again - Because of internal changes, all state files are now invalid - Completely reworked the file launcher: - Redesigned user interface - Added tracking of user favorites, recently played and most popular games - Added virtual directories for selecting tracked games - Added quick path navigation - Added navigation history - Added icons for files and directories - Added option to show/hide file extensions - Extended context menu and shortcuts - Fixed sluggish behaviour when reading large and/or invalid files - Added hotkey display to tooltips - Added option to automatically pause emulation when focus is lost - Added option to toggle autofire mode - Improved controller mappings for Paddles - Improved controller mappings for Driving controllers - Improved Mindlink support - Added another oddball TIA glitch option for score mode color - Enhanced TV jitter emulation (TODO: doc) - Enhanced support for CDFJ+ bankswitching type - Added 0FA0 bankswitching for Fotomania ROMs - Added ARM chip auto detection - Extended support for older BUS (experimental) ROMs that worked with an older, obsolete version of the BUS scheme; special thanks to SpiceWare for the code - Fixed Stella crash due to invalid ZIP files - Fixed TV mode auto detection in some ARM ROMs - Fixed color loss when switching TV mode from/to PAL - Fixed score mode glitch emulation corner case - Fixed state messages staying on screen forever - Added M1 support for the macOS build - Debugger improvements: - added PlusROM information - fixed patching code in ZP-RAM - improved bank origin detection - Updated internal ROM properties database to ROM-Hunter version 17 (thanks go to RomHunter for his tireless research in this area). Related to this, updated the snapshot collection
openMSX v18.0
16:11, 13-06-2022
Zykon
Обновится эмулятор
MSX
-
openMSX
MSX device support: - V99x8: - fixed ugly looking top line when displaying interlacing - fixed rounding for 'blue' in YJK modes - fixed bug in VRAM access timing, in cases where VDP and CPU are simultaneously accessing VRAM, like in Maze of Galious Enhanced. This was mostly noticable when replaying a recorded replay - V9990: - fixed possible crash when switching display modes (seen in SymbOS) - fixed BMXL and BMLX commands in P1 in 4bpp modes - R800: fixed flag behavior of block I/O instructions (only affect Z and N) - OPL4: - fixed aliasing in high pitched notes introduced in 0.15.0 - fixed missing reset of sample position when wave is changed during release - Apply Z80 CMOS behaviours to all MSX-ENGINE machines (not only turboR) - Implemented the known differences between OPM (YM2151, as used in Yamaha SFG-01) and OPP (YM2164, as used in Yamaha SFG-05) - Fixed YM2151/YM2164 timer - YM2413/OPLL (MSX-Music): - incorporated bug fixes in NukeYKT OPLL core from the upstream authors - emulate effects of too fast access to YM2413/OPLL when using the (default) NukeYKT core. Note: this only works when the speed setting is set to 100% - Fixed Sony HBI-55 emulation - Fixed swapped red/blue colors in laserdisc with SDLGL-PP - Added disk-changed bit in Sony FDC interface, required for HB-F500P for instance - Added support for Talent TDC-600 external floppy disk drive - Added support for Canon FDC connectionstyle - More accurate TC8566AF emulation (turboR FDC) - Implemented proper emulation of Konami EC-701, thanks to Albert Beevendorp and Takamichi Suzukawa - Added initial support for Sega SG-1000 (and some preparations for SC-3000) - Carnivore 2: - updated initial (out-of-the-box) flash content, with bootmenu 2.50 - added 2nd PSG feature with configurable I/O ports (new in 2.50 firmware) - added user-defined ID and control port I/O (new in 2.50 firmware) - report firmware as version 2.50 - fixed bug that prevented multiple Carnivore 2 cartridges inserted in a single machine - Added 2nd PSG on I/O ports 0x10-0x12 for Boosted configs and also added an artificial 2nd PSG extension, for convenience, as alternative to using a MegaFlashROM SCC+ SD or Carnivore 2 cartridge for that feature - Use cleaned up disk ROMs in several configurations (without registers) - Fixed several configs that had wrongly a memory mapper: Sony HB-F1XD, HB-F1XDmk2, Panasonic FS-A1mk2 - added new machines/extensions, thanks to: - Peter Hanraets: Philips VG 8235/39, Panasonic CF-2700 (UK), Casio MX-15, Mitsubishi ML-G30 model 1, Mitsubishi ML-G30 model 2, Sanyo MPC-25FS, Mitsubishi ML-8000, Daewoo DPC-200 (French), Sony HB-F1XDmk2, Sony HBD-20W, Panasonic FS-PW1 - sergarbes: Sony HB-F700S - Meits/Peter Hanraets: Philips VG 8235/20, several VG 8235 improvements - Ricardo Jurcyk Pinheiro: Yamaha AX200 - NYYRIKKI: Swedish/Finnish localized Spectravideo machines - friguron: Spanish Philips NMS 8250 - Others: Canon V-30F New or improved emulator features: - Huge clean ups and fixes of the unicodemaps (using Rebecca Bettencourt's mapping tables, which were released as part of Unicode) and other keyboard fixes/improvements (e.g. a French/Arabic unicodemap) - Added MSX character to unicode (and vice versa) mapping, which is used in the get_screen script - Fixed several bugs in save_msx_screen script (as seen in Yupipati) - Fixed bug in DirAsDSK which could lead to corruption - Fixed DirAsDSK on MSX systems that require a disk-change signal to notice changes - OSD menu: - fixed tape deck OSD menu when there are spaces in the path - added menu option to change host to MSX joystick mapping - Added script that can show where the raster beam is on the screen - Added script that shows sprite locations and information on the OSD - Also display hours in the reverse bar - Fixed crash when using "record_channels cassetteplayer" with resampler=blip - Don't remove once-breakpoints if condition fails - Added internal events on breakpoint/watchpoint/condition/probe add/remove (unused so far, but may help debugger development) - Allow multiple errors/warnings to be displayed on OSD - Large update of the ROM database Build system, packaging, documentation: - C++ code is based on C++20 and thus requires a compiler supporting it, e.g. g++ 9 or later (10 is recommended and will be necessary for the next release) or Visual Studio 2022 or later - Updated catch2 to 2.13.7 - 3rd party updates of SDL (2.0.20), FreeType (2.11.1), Tcl (8.6.12), libogg (1.3.5) and libvorbis (1.3.7) - Fixed FreeBSD run time crash at startup
Atari800 v5.0.0
10:23, 11-06-2022
Zykon
Обновился эмулятор
Atari800
для
Atari 5200
.
New features: - AVI video recording (Alt+V hotkey) - vcodec command line arg can select video codec - aname and -vname CL args set patterns for sound and video recording - horiz-area & -vert-area command line args for controlling the image area - showstats (and -no-showstats) CL args and related config file param - compression-level for configuring PNG and ZMBV compression - MP3 audio and other audio codecs for audio recording (Alt+W hotkey) - acodec can select audio codec - New cartridge types supported: - 71: Super Cart 64 KB 5200 cartridge (32K banks) - 72: Super Cart 128 KB 5200 cartridge (32K banks) - 73: Super Cart 256 KB 5200 cartridge (32K banks) - 74: Super Cart 512 KB 5200 cartridge (32K banks) - 75: Atarimax 1 MB Flash cartridge (new) See DOC/cart.txt for details - support for remapping of all function keys (START, SELECT, OPTION etc) - support for comments in config file - tool for creating cart files from ROM files - support for 64-512K Atari 5200 bank-switchable carts with Bryan's design - support for the alternate variant of MaxFlash 1 MB - support for single RaspberryPi OS package with HW specific binaries Changes: - video triple buffering changed to double buffering - gamma values in NTSC filter presets updated - MacOS build enables R: by default - fixed saving of config file - using zlib-provided crc32 if HAVE_LIBZ is defined - Altirra OS updated to v3.28 - renamed "Switchable 5200" cartridges to "Super Cart" - fixed segfault when a 5200 Super Cart cartridge is removed - avoided unnecessary memory copying of 5200 Super Carts - BUILD instructions and new README for Android - fixed segfault when exiting monitor - fixed BBSB's lift not working - avoided unnecessary memory copying in Bounty Bob cartridges - allow configuring --with-audio=win in non-DirectX targets - allow configuring --with-audio=sdl and --with-video <> sdl - atari_x11.c: don't auto-repeat the 'screenshot' key - build compatible with dash
Записи прохождений
21:24, 06-06-2022
Gennadiy_Master
На сайт добавлены новые записи прохождений:
Game Boy
Metroid II - Return of Samus (W)
NES
Хаки -
http://www.emu-land.net/consoles/dendy/movies/hack
:
SNES
GS Mikami - Joreishi ha Nice Body (J)
Jetsons, The - Invasion of the Planet Pirates (U)
Youkai Buster - Ruka no Daibouken (J)
Miracle Girls (J)
Super Mario All-Stars (U) SMB1
SMD
Earthworm Jim 2 (E)
Exo-Squad (U)
Comix Zone (U)
Battletoads (W)
Хотите добавить в раздел свое прохождение? Нет проблем! Пишите на
gennadiy_master@mail.ru
ColecoDS 7.4a
17:11, 06-06-2022
Zykon
Обновился эмулятор
ColecoDS
для
Nintendo DS
.
- Added back DrZ80 core and fixed Colecovision Boulder Dash so it doesn't crash - Better Einstein CTC handling so timing is a bit more accurate - Improved Einstein memory swap for faster performance - Improved MSX mapper detection - about 30 more games playable without fiddling with settings - MSX PAL game support added (it was only 80% working before this) - A few more frames of performance squeezed out to make more games run buttery-smooth
Ootake v3.04
17:50, 31-05-2022
Zykon
Обновился эмулятор
PC-Engine / TurboGrafx-16
-
Ootake
.
- The development environment of Ootake has been changed from "Visual Studio 2019" to "Visual Studio 2022". Along with this, even if you build(compile) with "Optimization ON", it will no longer be falsely detected by some antivirus software, so build with "Optimization ON" for public files ( Ootake.exe) is now done from this version. I think that there are more PCs that can operate comfortably without processing omissions even on older PCs than the version released with "Optimization OFF" - The volume balance of the ADPCM sound source has been brought closer to that of the actual device - When playing "TATSUJIN" in the overscan area display ([F12] key) environment, the dust display at the top and bottom of the screen (it also exists with the actual machine) has been suppressed. The PC Engine version of "TATSUJIN" has a narrow screen, but the enemy bullets are fast, so I feel that it is too difficult for people to enjoy it unless the overscan area is displayed. In addition, if you select the difficulty level EASY with the trick of "RUN while pressing SELECT on the title screen", I think that those who like the great transplant "Kyukyoku Tiger" and "Super Raiden" will probably enjoy it just right. If you check the "CPU-> Perform Sprite Limit" menu, it will be reproduced in the same way as the actual machine (garbage will be displayed when restarting after being killed) - The processing related to raster interrupts has been brought closer to the operation of the actual machine. The problem that the drawing on the screen was disturbed in the demo scene of "Sol Moonarge" (occurred from v2.81. It was not fixed in v3.03) has been solved - Fixed a bug (occurred from v2.96) that sometimes "a very old version state save file" could not be read correctly - Fixed a bug that the game screen sometimes went black when the resume was restored when the stretch screen mode was changed when using the resume save ("File-> Set Resume" menu) - Other small parts have been corrected and improved

SpecEmu v3.2 build 25.06.22

Visual Boy Advance GX v2.4.6

Visual Boy Advance GX

FCE Ultra GX

FCE Ultra GX v3.5.2

Snes9x GX

Snes9x GX v4.5.3

nemulator v4.4

EightyOne v1.29

Stella v6.7

Stella v6.7

Stella

openMSX

openMSX v0.18.0

openMSX v0.18.0 (source)

Atari800

ColecoDS v7.4a

Ootake

86Box

DeSmuME v0.9.13