Kaillera server:
gs.emu-land.net:27888
Mednafen server:
gs.emu-land.net:4046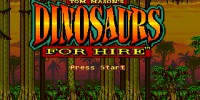 StellaDS V6.1
20:48, 02-12-2022
Zykon
Обновился эмулятор
StellaDS
для
Nintendo DS
.
- CDFJ+ games are now supported up to 256K of ROM and 32K of RAM. Turbo Arcade is playable but isn't yet full speed - More speedup in ARM Thumb processing - New Screen Pan Up and Pan Down handling - this can be mapped to any DS button (XYAB) to help with games that use more than 192 pixel lines (really useful for CDFJ games from Champ Games)
Библиотека
02:26, 02-12-2022
Kisa
86Box v3.11
17:43, 26-11-2022
Zykon
Стабильная версия эмулятора
86Box
обновилась до
3.11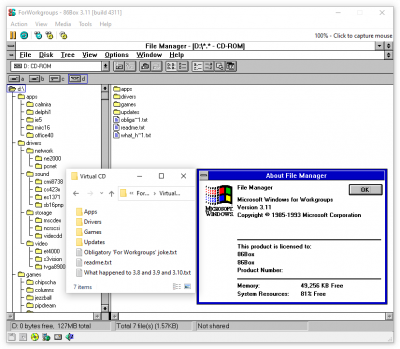 Emulator - Added Vulkan renderer through MoltenVK for most Metal-capable macOS hosts running 10.14 and newer (non-Metal Macs and 10.13 are still supported) - Added -I/--image : command line option to automatically mount a floppy disk image in the specified drive - Added more display scaling factors (up to 8x) - Fixed incorrect full screen scaling - Fixed Keyboard requires capture option being ignored in full screen mode - Fixed emulator crash with nvr_load() message when a machine's CMOS file (.nvr) is not readable - Fixed Discord integration causing high CPU usage even if disabled - Fixed white screen when switching to the Qt (OpenGL) renderer - Fixed Vulkan renderer showing up as an option on hosts without Vulkan capability - Changed mouse capture back-end on Linux hosts with XInput 2.1+ capability, please let us know if you have mouse-related issues! - Changed default full screen stretch mode to 4:3 - Updated AppImage runtime for Linux hosts - Improved mouse input responsiveness on all hosts - Improved performance of the alternate evdev mouse mode on Linux hosts - Slightly improved performance of the Qt (OpenGL) renderer User interface - Added a list of recently used images for floppy and CD-ROM drives - Added icons to help identify recently used images and folders on the CD-ROM menu - Added translation: Chinese (Taiwan) - Fixed incorrect hard disk image sizes when creating images larger than 4 GB or with more than 16 heads - Fixed hard disk image size (in MB) changing itself while a new size is being typed in - Fixed keyboard shortcuts for sending Ctrl+Alt+Del and taking screenshots in full screen mode - Fixed pause button icon behavior - Fixed missing AppImage icon on some Linux desktop environments - Fixed missing menu separators on macOS - Changed keyboard shortcut for pausing to Left Alt + Right Alt + Pause - Updated translations: German, Portuguese (Brazil) Machines - Added Pravetz-16 / IMKO-4 and Micoms XL-7 Turbo Bulgarian XT clones - Added Packard Bell PB8810 XT clone - Added Epson Equity LT portable XT clone - Added V20 XT clone - Added MSI MS-5124 Socket 7 motherboard - Added real time clock to the Olivetti M21/24/24SP and M240 - Fixed DTK PKM-0038S E-2 hanging on the memory test during POST - Fixed integrated mouse not working on the Amstrad PPC512/640 - Fixed any mouse not working on the Olivetti M21/24/24SP and M240 - Fixed keyboard not working properly on the Amstrad PC20(0), Olivetti M21/24/24SP and M240 - Fixed IBM PCjr displaying ERROR D after a hard reset - Fixed secondary IDE channel on the PC Partner MB500N and QDI FMB - Fixed PCI device IRQs on the Azza PT-5IV - Fixed Fn key (mapped to Right Ctrl) on Toshiba machines - Fixed Vendex HeadStart Turbo 888-XT, Compaq Portable and other XT clones misdetecting the amount of installed floppy drives - Fixed ADI 386SX BIOS setup hang when editing the user-defined hard disk type 48 - Fixed Olivetti M21/24/24SP and M240 floppy drive type detection - Fixed on-board IDE controller incorrectly enabled and causing errors on the Samsung SPC-6000A - Fixed PS/2 mouse incorrectly enabled on the Gigabyte GA-586IP and QDI FMB - Fixed BCM GT694VA filed on the wrong category (now Slot 1) Hardware Core - Added NEC V20 and V30 CPUs for 8088 and 8086 machines respectively - Added missing Extended 3DNow instructions to the AMD K6-2+ and K6-III+ - Fixed Windows protection error when booting Windows 95 or 98 FE on higher-clocked Pentium II and Celeron CPUs - Fixed AAM CPU instruction issues with Microsoft Flight Simulator 98 and potentially other applications - Fixed XT keyboard not working on applications which modify the keyboard enable flag - Fixed PCI device IRQs on machines with the OPTi PCI bridge - Fixed emulator crash with Over limit! message on the dynamic recompiler for x64 builds - Fixed specific issues with CPU exception handling - Fixed incorrect CPUID behavior on AMD K6-2 and K6-III CPUs - Fixed console output noise produced by some emulation modules - Improved performance of a few internal components such as timers and I/O ports - Changed 8088/8086 parity flag emulation to offload calculation to the host CPU Display - Added Pravetz VDC-2 ISA video card (CGA clone with Cyrillic support) - Added Tseng ET3000AX ISA video card - Added NEC SV9000 (Trident TVGA 9000B) ISA video card - Added 3dfx Velocity 200, Voodoo3 1000 and 3500 AGP video cards (Voodoo3 1000 also available as PCI) - Attempted fix for texture glitching on the Voodoo and Voodoo 2 - Fixed Voodoo Banshee/3 crashing the emulator with banshee_do_screen_to_screen_blt: unknown srcFormat message on full motion video applications - Fixed Voodoo 2 crashing the emulator with CMDFIFO2: Not Banshee message - Fixed 2D glitching and lack of RAM selection on the MSI MS-6168 / Packard Bell Bora Pro on-board Voodoo 3 - Fixed IBM XGA BIOS loading issues resulting in POST failures - Fixed a few issues with certain Windows applications on the IBM XGA - Fixed Cirrus Logic video cards glitching with generic drivers on Windows 3.1x - Fixed S3 86C801 and 86C805 font corruption with specific drivers - Fixed OS/2 cursor glitching on S3 cards - Fixed Kasan Hangulmadang-16 VGA Korean font mode not working - Fixed Trident TGUI cards hanging the emulated system on specific accelerated applications - Fixed Image Manager 1024 running too fast - Improved Voodoo Banshee/3, S3 ViRGE and ATI Mach64 stability on ARM hosts (including Apple Silicon) - Improved performance of VGA emulation in specific cases - Slightly improved performance of the Voodoo dynamic recompiler on x86 and x64 hosts Input - Added five-button PS/2 mouse option - Fixed middle click incorrectly sending a simultaneous left and right click on three-button PS/2 mice - Fixed Windows and Menu keys not working on some Linux hosts Sound - Added AcerMagic S20 Sound Blaster Pro and Windows Sound System compatible ISA sound card based on the OPTi 82C929 chipset - Added miroSOUND PCM10 ISA sound card (also SB Pro and WSS compatible OPTi 82C929) with integrated Yamaha OPL4 synthesizer - Added Tandy PSSJ clone and TNDY ISA Tandy sound cards for non-Tandy machines - Added Roland MT-32 ROM 2.04 and CM-32LN MIDI synthesizers - Fixed Sound Blaster 2.0 crashing the emulator when its OPL2 is accessed - Fixed AdLib MCA not being detected by the emulated machine - Fixed Ensoniq AudioPCI legacy DOS drivers - Fixed FluidSynth not working on macOS hosts Network - Reworked network emulation to improve performance and stability - Added support for up to 4 network cards per machine - Added 3Com 3C501 ISA network card (based on VirtualBox) - Added network cable connection and disconnection through the status bar and Media menu - Fixed AMD PCnet-FAST III speed being capped to 10 instead of 100 Mbps, though not all host systems can reach higher speeds - Fixed Settings window crashing if too many PCap interfaces are present on the host (particularly on macOS hosts) Ports - Fixed ESC/P and PostScript printers not working on macOS hosts - Fixed serial port resource allocation issue on later ALi chipsets Storage - Added virtual ISO for mounting host folders on CD-ROM drives - Added option to switch ATAPI and SCSI CD-ROM drive identification between an earlier drive (the default on previous 86Box versions) and a newer one (the new default) - Added Olivetti M21/24/24SP, M240, Victor V86P and Toshiba T1200 integrated hard disk controllers - Added Western Digital WD1004 RLL hard disk controllers - Fixed hard disks being removed if the image file is in use - Fixed IDE controller resource allocation issue on later ALi chipsets - Fixed Tekram DC-390 SCSI controller unable to boot from some bootable CDs - Fixed CD-ROM images with Unicode characters in the file path not working on some Windows hosts - Fixed ATAPI drives (CD-ROM, MO and ZIP) being detected 8 times over or as a hard disk by some software - Fixed ATAPI CD-ROM not working with specific DOS drivers from Acer, Mitsumi and TEAC - Fixed emulator crash with esdi_read message with the IBM ESDI MCA disk controller - Changed CD-ROM drive model on the Sony Vaio PCV-90 to make its recovery disc work
StellaDS V5.9
17:42, 21-11-2022
Zykon
Обновился эмулятор
StellaDS
для
Nintendo DS
.
- Minor fixes for some games to render them more accurately including the new Chaotic Grill homebrew - Improved ARM Thumbulator for another frame of performance - Minor cleanups and optimizations across the board
На сайт добавлены новые записи прохождений:
Game Boy
New Batman Adventures, The - Chaos in Gotham (U) [C]
Game Boy Advance
Batman - Vengeance (U) (M3)
NES
Metal Gear (U) [rus]
Ninja Jajamaru - Ginga Daisakusen J [rus]
Saiyuuki World (J) [rus_Chief-Net]
Spelunker (U)
WURM - Journey to the Center of the Earth (U)
Хаки -
http://www.emu-land.net/consoles/dendy/movies/hack
:
F-Theta (Unl)
Super Maruo (Unl)
SNES
Batman Returns (U)
Kendo Rage / Makeruna! Makendou
SMD
Ghostbusters (W) (REV00)
Asterix and the Great Rescue (U) [rus]
Goofy's Hysterical History Tour
Хотите добавить в раздел свое прохождение? Нет проблем! Пишите на
gennadiy_master@mail.ru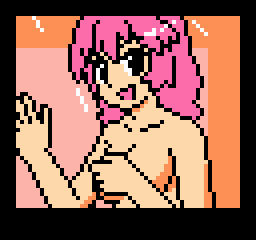 melonDS v0.9.5
21:37, 04-11-2022
Zykon
Обновился эмулятор
Nintendo DS
-
melonDS
- remove incorrect color profile from PNG icons - DLDI fixes for the Smash demo - fix gaps in I/O handling - fix invalid savemem commands, fixes Dementium - FreeBIOS: add VRAM-compatible LZ77 decompress function, fixes Yoshi's Island - default firmware: in DSi mode, emulate DWM-W015 wifi board instead of DWM-W024 - default firmware: save WFC settings to separate file - disable firmware overrides UI when firmware override isn't checked - 2D: more accurate fade/blending - DSi: add support for GXFIFO NDMA - DSi: add mainRAM mirror at 0x0C000000 - add 3DS 5:3 aspect ratio, refactor aspect ratio code - OpenGL: fix 16x resolution on macOS - fix triggers being recognized as negative analog stick values during mapping - fix joystick mapping buttons on macOS - DSi: preliminary implementation of SNDEXCNT - DSi: fix SD inserted/removed IRQ bits - DSi: implement 8/16bit access to AES registers - DSi: fix SCFG_MC cart-inserted bit - JIT: invalidate blocks in ARM7 VRAM/WRAM when it is remapped - fix ROM banner reading when the ROM has no banner - fix UTF16 ROM title handling in the ROM info dialog - wifi: improvements to wifi emulation - wifi: shared-memory based sync/comm mechanism for local wifi - proper support for multiple melonDS instances for multiplayer - DSi: actual, proper camera support - DSi: fix DSP enough that it will actually work - fix OpenGL context handling - force-align all memory accesses (instead of just CPU memory accesses) - better CLI parameter handling - fix bugs in DSi direct boot
DSP Emulator v0.21WIP4
20:54, 26-10-2022
Zykon
Освежили мультисистемный эмулятор
DSP Emulator
General - Update preview images, added images for new drivers - Konami K051316 - Begin implementation, still WIP CPU - HD6309: Fixed opcodes c, d and f - Konami CPU - Fixed opcodes , , e, f, , , e, f, $b4 and $b5 - Added opcodes , $bc, $be, $c6, $cc, $cd and $ce (Fixes 'The Simpsons', it's playable to the end) - M6809: Fixed opcodes c, d, e and f - Konami 053246 - Fixed shadows - Sound - AY8910 - Added gain per channel - Fixed AY8912 PORTB channel Ajax - Added K051316 video chip Ambush - Added driver with sound Kyugo HW - S.R.D. Mission: Added driver with sound - AirWolf: Added driver with sound Mag Max - Added driver with sound Nemesis HW - Rewrited screen flip, fixes TwinBee The Simpsons - Fixed video settings - Added sprites dma interrupt enable/disable Thunder Cross HW - Fixed sprites priority

StellaDS v6.1

EMU7800

BigPEmu v1.00

86Box

melonDS v0.9.5

melonDS v0.9.5

DSP Emulator

SkyEmu v2

SkyEmu v2

SkyEmu v2

BGB

mGBA

mGBA

mGBA

SpecEmu v3.2 build 01.10.22

Mednafen

Hatari

Hatari

Hatari

YabaSanshiro2 v1.9.3