Kaillera server:
gs.emu-land.net:27888
Mednafen server:
gs.emu-land.net:4046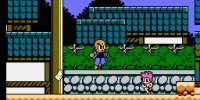 Эмуляторы Game Boy / Color для Xbox 360

Visual Boy Advance 360 v0.03 Public Beta
Эмулятор
Game Boy (Color)
и
Game Boy Advance
для
Xbox 360
. Порт VBA-M (svn r945).
Gameboy Advance/Gameboy/Gameboy Color/Super Gameboy emulation
Graphics/Sound/Controller support
Savestate and Battery save support
Enhanced Graphics Filter support
Bilinear/Point hardware filtering
Compressed Rom Support (.zip, .7z)
Favorites Support
Supports 64k/128k Flash Saves
Source Code has been provided for your amusement.
Turbo support (Right Trigger)
Activate In game menu via right thumbstick.
Размер: 8.6 MiB | Загрузок: 2449 |

Загрузить

XeBoyAdvance
v0.4
Эмулятор
Game Boy (Color)
и
Game Boy Advance
для
Xbox 360
.
Added Cheat Code Support
New GUI
Gameboy and GameBoy Color Support
Metroid Graphic/Audio Bugs Fixed
All memory leaks fixed
Gameplay Status
BoxArt Support
And alot more.
Размер: 12.4 MiB | Загрузок: 2242 |

Загрузить