Kaillera server:
gs.emu-land.net:27888
Mednafen server:
gs.emu-land.net:4046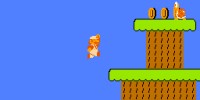 SkyEmu v2
19:15, 23-10-2022
Zykon
Обновился эмулятор
SkyEmu
новый эмулятор для
GameBoy, GameBoy Color and Game Boy Advance emulator
.
Display Options - Forced Integer Scaling - Stretch to Fit Scaling - Color Correction - Screen Ghosting - Screen Rotation - Customizable DMG GB Color Palette Improved Save States Compressed ROM loading Improved GameBoy and GameBoy Color Emulation - Rewritten APU and PPU - Significantly more accurate audio and graphics emulation - Supports mid-scanline effects - Supports mid tone PSG writes - Can now run complex games like Prehistorik Man with correct audio and video - Added support for RTC emulation (allows for day/night cycle in Pokemon among other things) - Added support for booting GB/GBC Boot ROMs - Enabled by adding one of the following files to the folder with the game ROM - GBC Boot ROMs: "gbc_bios.bin" "cgb_boot.bin", "cgb0_boot.bin", "cgb_agb_boot.bin" - GB Boot ROMs: "dmg0_rom.bin", "dmg_rom.bin" "gb_bios.bin" - Running a GB game with a GBC Boot ROM enables colorizing the GB games and palette selection by holding a direction on the D-pad just like a real Game Boy Color Increased Accuracy - (GBA) Final Fantasy Tactics: Fixed in game save - (GBA) Top Gun Combat Zones: Fixed bug that prevented being able to start the game - (GB) Alleyway World (GB): Fixed a bug that prevented the users input from being able to move the paddle - (GB) Pokemon Red: Fixed corruption on game loading screen - (GBA) 007 Everything or Nothing: Fixed audio screeching - (GBA) Beyblade V-force - Ultimate Blader: Fixed audio clicks/pops - (GBA) Beyblade V-Force - Ultimate Blader Jam (USA) audio click/pops - (GBA)Golden Sun - Depth issues - (GBA) ATV Quad Power Racing unplayable - (GBA) Konami Krazy Racers (USA) missing tracks during the intro - (GBA) Mario Kart - Super Circuit: track renders incorrectly - (GBC) Action Man - Search for Base X (USA, Europe) (gbc) crashes out straight away - (GBA) Golden Sun don't save - (GBA) GBA Golden Sun...Sleep Mode does not work - (GBC) Survival Kids (GBC) intro sequence has wrong color pallette - (GB) Zen - Intergalactic Ninja (USA) graphics glitch - (GBC) Warriors of Might and Magic (USA) (En,Fr,De) GBC corrupt hud - (GB) Speedy Gonzales (USA, Europe) corrupt hud during gameplay - (GBC) 007 - The World Is Not Enough (USA, Europe) glitchy HUD - (GBC) Fli-Plasma (PD) [C] glitchy line at top of screen - (GBC) Doesn't pass the test made by Demotronic GBC demo - (GBC) Binary Chaos (PD) [C].gbc flashing screen and freezes up - (GBC) Ready 2 Rumble Boxing (USA) (Rumble Version) (GBC) stuck on the title screen

SNES9X 1.62

EightyOne v1.33

DSP Emulator

SpecEmu v3.2 build 11.03.23

BigPEmu v1.054

FCEUX

FCEUX v2.6.5

FCEUX

WinUAE

mGBA

mGBA

mGBA

mGBA

puNES

Altirra v4.10

PPSSPP 1.14.4

VICE

Hoxs64

no$psx v2.2

StellaDS v6.4
Самая подробная информация краш-симуляторе
Jetx
здесь. , Курсы английского языка петроградская
thefrog.ru/
можно недорого, всегда вам рады.