Kaillera server:
gs.emu-land.net:27888
Mednafen server:
gs.emu-land.net:4046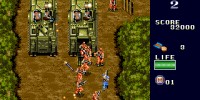 Ootake v3.02
18:35, 23-06-2021
Zykon
Обновился эмулятор Turbo Grafx-16 - Ootake.
- When playing "Wizardry III & IV (J)", the file name of the battery backup RAM will be the same as "Wizardry I & II (J)". The file name is [(CD)Wizardry I & II (J)_bram.dat]. You can share save characters between "I&II" and "III&IV". If you uncheck the "Setting-> Improve-> Shared bram (Wizardry 1&2 and 3&4)" menu, it will be saved(used) as a separate file - "Swap Wizardry 1&2 or 3&4 CD-ROM" has been added to the "CD-ROM-> CD Change (No Reset)" menu. If both "Wizardry 1&2" and "Wizardry 3&4" are CD-full-installed("CD-ROM-> CD Install" menu), you can switch the CD-ROM ("Wiz1&2" or "Wiz3&4") to be inserted into the PC Engine. Execute this menu when the CD-ROM replacement message is displayed during the game - When the "Screen-> Mode-> for Video Caputure Mode" menu and the "Screen->Mode-> for Video Caputure Mode Non-Scanlined" menu are selected, the image quality setting is such that the screen does not wavy - The sprite display processing has been brought closer to the operation of the actual machine. In the battle scene of "Burai 2", the problem that the effect display such as magic was missing half and was displayed (occurred from the recent version) has been solved - When playing "CD Battle Hikari no Yuushatachi (J)" with CD installation ( "CD-ROM-> CD Install" menu), insert the CD you want to battle and press the [F1] key once. After that, the CD replacement is automatically recognized without pressing the [F1] key - Fixed the bug that key input was not accepted when the controller setting window was canceled during setting - Other minor parts have been corrected and improved

My Nes

melonDS v0.9.3

melonDS v0.9.3

melonDS v0.9.3

Atari++ v1.84

YabaSanshiro2 v1.5.0

VirtualC64

mGBA

mGBA

mGBA

mGBA

FCEUX

FCEUX

Ootake

86Box

Mednafen

RockNES

Project64

Assassins Creed Братство по крови кодекс..

openMSX v0.17.0