Kaillera server:
gs.emu-land.net:27888
Mednafen server:
gs.emu-land.net:4046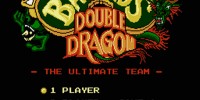 Записи прохождений на Game Boy
00:57, 16-07-2019
Gennadiy_Master
Добавлены новые записи прохождений на Game Boy.
WinFellow v0.5.8.1189
20:05, 13-07-2019
Zykon
Обновился эмулятор Commodore Amiga - WinFellow
New features - support for RDB hardfiles was implemented; while creating a new hardfile from the WinFellow GUI still creates "plain" hardfiles, a Rigid Disk Block can be created using tools like HD Toolbox - the default naming scheme for filesystem devices has been changed from DHx: to FSx: to avoid naming conflicts with existing RDB hardfiles - a 64 bit build is now provided; the NSIS installer will install either the 32 or 64 bit version depending on the operating system that is used Bug fixes - improved handling of hardware interrupts and blitter delays; fixes freezes that could occur during installation of Workbench in earlier 0.5.x versions - fix wrong selection of render function after return from menu when application did not write to bplcon0 every frame; fixes garbled graphics in a Legend cracktro when returning from menu - replaced alternating patterns for unmapped memory with proper random numbers - CLR reads before write; fixes loading of Outrun and a fast-mem test in Last Ninja 2 - improve delay caused by logging in screen-mode enumeration (could amount to many seconds with multiple screens) - running in an environment with very slow graphics framerate, like a VM, could cause a deadlock; set wait time after event reset to avoid race condition - fix an issue where screenshots would occasionally not be taken in Direct3D graphics mode; this may also have impacted the ability to use Amiga Forever's clipping editor - fix an issue where applying a new model preset would leave multiple blitter radio buttons selected Maintenance updates - project files were updated to Visual Studio 2019 using the toolset v141_xp - the February 2010 DirectX SDK dependency was eliminated - IPF Access API files were updated to the latest version, and support for it was enabled in 64 bit builds
No$gba v2.9e
18:07, 10-07-2019
Zykon
Обновился эмулятор GBA - No$gba
- wifiboot uploader: supports uploading 3ds .firm files from no$gba to 3ds - wifiboot uploader: new bootinfo block (icon/title and rtc/time) - wifiboot/help: added DS Wifi Dslink/Wifiboot Protocol chapter - 3ds/help: added notes on SD/MMC Signals and 3DS Hardmodding - 3ds/help: 3ds NWM wifi driver info (pool addresses and type1/4/5 variants) - 3ds/help: specs for CID/OTP/NCSD/FIRM sectors for 3ds-#.mmc and new3ds-#.mmc - setup: added 3ds/new3ds as nds mode variants (for debug view, not emulation) - 3ds/aes: supports keyinit as by bootrom per otp (for filesys viewer) - 3ds/emmc: loaded from 3DS-1.mmc or New3DS-1.mmc (for filesys viewer only yet) - 3ds/bios: loaded from BIOS3DS.ROM (ARM9+ARM11) or BIOS3DS9.ROM+BIOS3DS11.ROM - 3ds/help: added file/filesys info and arm11 mpcore/irq register specs - wifi/help: added several new details (mostly from newly dumped AR6014 rom) - a22i: supports abbrev ALU Rd,Rm,RotateShift (using Rd for both Rd and Rn) - wifi/help: added wifi-board pinouts from fccid, and 4kbyte-wifi-flash-specs - 3ds/crypt: supports sha256, sha224, aes-cbc, new keyscrambler (keyx/y) - filesys viewer: show/decrypt 3ds stuff (partitions and firm/sav blocks) - filesys viewer: faster directory loading (abort on first unused 00h entry)
Cemu v 1.15.10
22:30, 05-07-2019
Zykon
Обновился эмулятор WiiU - Cemu.
- Added auto-updater - Screenshots are now automatically saved to a folder - Niche optimizations - Bug fixes & minor improvements
Обновился эмулятор среды DOS.
DOSBox 0.74-3 has been released A new version has been released, with the focus on security: Fixed that a very long line inside a bat file would overflow the parsing buffer. (CVE-2019-7165 by Alexandre Bartel) Added a basic permission system so that a program running inside DOSBox can't access the contents of /proc (e.g. /proc/self/mem) when / or /proc were (to be) mounted.(CVE-2019-12594 by Alexandre Bartel) Several other fixes for out of bounds access and buffer overflows. Some fixes to the OpenGL rendering. Full changelog: Implement basic file access control for files available from within the emulation, so that programs running inside DOSBox can't access /proc (e.g. /proc/self/mem). (CVE-2019-12594) Unify unmounting code and add some protections against out of bound access when DOS_DRIVES is not 26. Use correct type for return value of strlen. Change scan3x to a bit brighter. Fix unitialized access to some isoDrive fields and improve stability when switching CD images. Small fix to hq3x. Fix 256 colour mode encoding in zmbv.dll. Some small aliassing fix. Change SET to check the size of the MCB when adding variables. Fixes hangs with Norton Commander. Check buffer length before doing tab completion. Correct buffer overflow with very long lines in bat files. (CVE-2019-7165) Correct the boundary check for the internal programs array. Increase stability in max cycles mode by increasing the lower bound. Fix command prompt in windows 3.11 with dynrec core. Fix Win64 dynrec core. Always clear buffers before drawing in OpenGL mode. Fixes artifacts with drivers that have more than 2 buffers and overlays. Fix red border that appeared when scaling the image in OpenGL mode with Nvidia on Linux and Mac. Change default output to opengl on Mac, as surface is very slow there in 64 bit. Add workaround for the mouse unlocking problem with X.org 1.20.1. Fix table access when USE_FULL_TLB is undefined (non-default configuration). Several fixes to prevent compilation errors. Update Visual studio file to fix missing files from 0.74-2. In an ideal world 0.75 would have been released already, but some bugs took way longer than expected as well as real life demanding a lot of attention. It's still being worked on.
melonDS v0.8.2
16:46, 26-06-2019
Zykon
Обновился эмулятор Nintendo DS - melonDS
- fix GL renderer not working at all on certain setups - add 32bit writes to certain IO ports (fixes some freezes) - OpenGL: disable vsync under Windows - fix bug when mapping a joystick axis but no button - set kMaxIterationCycles to 64 (old value 16) - fix potential crash when pressing Escape with menus opened - OpenGL: remove shitty hack - OpenGL: better lines - fix potential crash when closing emu
FoxyLand стартовал на IndieGoGo
Не так давно командой PSCD.RU была опубликована демо-версия разрабатываемой игры FoxyLand, а также запущена компания по сбору средств на сервисе IndieGoGo.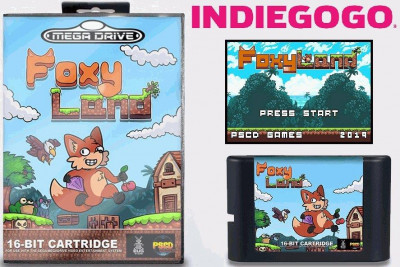 Приветствую вас! Как мы и обещали ранее, сегодня 20 июня мы запускаем компанию по сбор средств на IndieGoGo для портирования игры FoxyLand на 16-битку Sega Mega Drive / Genesis. Ранее мы уже предоставили для всеобщего скачивания демо игры FoxyLand . Напомню что в демо доступно 8 уровней, в том числе и уровень с Боссом. На этих уровнях вас подстерегают враги и ловушки, а так же несложные головоломки, решить которые вам предстоит для прохождения уровней. Кто ещё не успел ознакомиться с демо игры FoxyLand для SMD, рекомендую это сделать. Если вам понравилась игра поддержите нас на IndieGoGo. Так же мы нуждаемся в информационной поддержке, поэтому если вы сообщите об этом событие своим друзьям в социальные сети или на другие информационные ресурсы, мы будем вам премного благодарны.
Altirra v3.20
17:53, 25-06-2019
Zykon
Обновится эмулятор восьмибитных компьютеров от Atari - Altirra.
[changes] - Debugging symbols and debugger scripts are no longer automatically loaded by default unless the debugger is active. This can be changed in the Debugger section of Configure System -AltirraOS is now versioned independently of the main emulator. See changelog in export ROM set output for details - The direct read filter for cassette tapes has been lowered in bandwidth to reduce load failures on FSK-encoded glitches. The filter bandwidth can now be adjusted in Configure System, Cassette [features added] - Additions: Colormap now supports CTIA systems - AltirraOS: Minor improvements to text I/O performance - Cartridge: Flash memory type can now be changed for Maxflash 8mb cartridges - Cassette: Added option for detecting and automatically switching BASIC when booting tapes based on whether the tape starts with a BASIC or binary program - Debugger: #comments can now be used in .atdbg files - Debugger: @(...) within an expression causes that subexpression to be evaluated immediately - Debugger: .diskdumpsec now dumps phantom sectors for a virtual sector - Debugger: .disktrack now has an option for drive number - Debugger: Added support for bank-specific addresses in MaxFlash cartridges using t:$XX'YYYY syntax - Debugger: Added options for controlling auto-load of symbols and debugger scripts - Debugger: Added menu option to list source files associated with line debugging information - Devices: Added emulation of APE Warp+ OS 32-in-1 device - Disk: Added support for physical sector size chunk in ATX images - Disk: Fixed XF551 standard emulation mode to force SD format with command when the current mode is enhanced density - Display: Added new overscan mode for typical widescreen displays - Display: Added controls for scanline intensity and scaling overall display intensity - Display: Optimized standard NTSC artifacting algorithm - Display: Added option to hide all on-screen indicator overlays - Display: Added color preset for NTSC 800 computer - Display: Added option to accelerate some screen effects using shaders when Direct3D 11 is enabled - Firmware: Version numbers are now displayed for the internal OS and BASIC ROM images - HLE: Program loader now detects and throws an error on an attempt to load an MS-DOS or Windows program into the emulator - Input: Added Arrow Keys -> Paddle A preset - Input: Digital sources can now be bound to the Paddle Knob input on paddle controllers to use the paddle lines as switches - U1MB: Stereo POKEY and Covox control is automatically enabled when Ultimate1MB and stereo/Covox are both enabled - UI: Added a GUI option in settings for switching between portable and registry mode - UI: Added visual drop targets for different drag and drop modes, formerly only available via right-drag-drop - UI: Added overview and recommendation pages to Configure System - UI: Escaping is now supported for text copy and paste - UI: Alt+click message help has been extended to also decode common POKE and PEEK addresses [bugs fixed] - AltirraOS: FDIV no longer returns 0 for 0/0 - AltirraOS: AFP(".") properly returns an error instead of 0 - AltirraOS: EXP10() was returning an error instead of underflowing to 0 for some large negative inputs - AltirraOS: Pressing reset on the boot screen now forces BASIC to do a cold boot - AltirraOS: Type 3 poll loop is now exited on user break error to fix infinite boot loop with Black Box firmware - AltirraOS: Corrected ICBLLZ/ICBLHZ values after CIO get commands - AltirraOS: Pressing Help now sets HELPFG - ATBasic: Fixed crash when Break is pressed prior to startup banner - Audio: Fixed crash on system with no sound card - Cartridge: Manually inserted BASIC cartridges are now persisted across runs of the emulator - Cartridge: Fixed broken DB 32K mode (CAR type 5) - Cartridge: The!Cart 16K banking modes no longer use the secondary bank write protect flag - Cartridge: Fixed The!Cart disable mode sometimes leaving bank windows active - Cartridge: Corrected definition of MegaMax 2M mode (CAR type 61) to support banking on reads - Cartridge: Corrected definition of 2M megacart mode (CAR type 64) - Cassette: References to tapes mounted directly as .zip files without a direct reference to a file within the zip are now persisted properly across runs - Debugger: Improved Turbo-Basic XL support in the .basic_vars and .basic_dumpstack commands - Debugger: Fixed listing directives getting executed twice for carts - Debugger: Step Over past an interrupt no longer exits the current scope - Debugger: Mini-assembler no longer emits ROR opcodes as LSR - Debugger: Fix crash in MADS symbol parser with single-character labels - Debugger: .readmem and .writemem now accept quoted paths - Devices: Black Box no longer powers up disabled on startup if exactly DIP switches 1-4 are enabled - Disk: Full disk emulators now report address CRC errors properly ($E7) - Disk: Improved accuracy of disk errors from XF551 full drive emulation - Disk: Improved emulation of FDC not ready bit () - Disk: Read Address now returns sectors with data CRC errors - Disk: The non-standard sector size option of the 1771 is now partially supported - Disk: Deleted sector marks can now be written by the Write Sector command - Disk: Interrupted Write Sector commands now affect the disk image - Disk: Rotate disk command now works with full disk drive emulation - Disk Explorer: Fixed crash when write flush fails due to another program locking the disk image file - Display: Fixed a high CPU usage issue with enhanced text display when paused - HLE: FP acceleration no longer returns 0 for 0/0 - SAP: Lowered SAP type D player from 00 to 00 to improve compatibility with files that have a low load address - Input: Fixed Shift key state sometimes being incorrect when Shift was pressed/released while holding another key. The emulated Shift key state is now updated on Shift key changes while other keys are held - Input: The Input State and Console controllers are no longer blocked in 5200 mode - PerfAnalyzer: Fixed sporadic errors in profiling sub-view when profiling short CPU trace ranges - Profiler: Fixed a bug causing the function and basic block modes to misattribute some interrupt time to the parent function/block - Profiler: Fixed broken BASIC line profiling mode - Save States: Fixed save state errors with 65C816 CPU modes - Simulator: Fixed crash when single-stepping prior to computer being turned on with disk drive CPU selected - UI: Fixed CIO acceleration options not being bound correctly in new configure system dialog - UI: Disk drives dialog no longer appears hidden the first time it is ever used - UI: Fixed argument parsing error when emulator is launched with argv[0] containing forward slashes - UI: Fixed incorrect partial switch matching on command line, e.g. "/disk1" being interpreted as "/disk 1" - VBXE: Overlay width setting %%11 now correctly selects narrow width instead of wide width
Mesen v0.9.8
10:56, 24-06-2019
Zykon
Обновился эмулятор Nes - Mesen.
New Features - Debugger: General improvements as well as new features/tools (and bug fixes.) - NSF: Allow rewinding during NSF file playback and fixed an initilization problem with VRC6 audio - History Viewer: Added a few new features and options, including allowing it to be used with NSF files - Video: Added support for 512-color palette files (for color bit emphasis.) - Input: Added options to configure the deadzone size for analog sticks and to hide the mouse cursor when using a zapper - Dip switches: Dip switches can now be configured for all cartridges that use them (instead of being limited to VS System games.) Bug Fixes - APU: Fixed frame counter bug that caused audio to sometimes be paced slightly incorrectly - APU: Fixed DMC power on state to match hardware test results - PPU: Prevent palette updates during horizontal blank when rendering is enabled (to match expected hardware behavior.) - Namco 163: Fixed problems with battery save data - Bandai FCG: Added support for EEPROM save data - MMC5: Fixed incorrect attribute data when using fill mode - VRC7: Updated audio instrument values to match the values recently dumped from hardware - AOROM: Fixed power on mirroring state - Misc: Fixed minor bugs in a variety of mappers (including mappers 112, 176, 320 and UNROM512.)
Cemu v 1.15.9c
15:06, 21-06-2019
Zykon
Обновился эмулятор WiiU - Cemu.
- UI improvements - Compatibility improvements - Bug and crash fixes
melonDS v0.8.1
18:07, 13-06-2019
Zykon
Обновился эмулятор Nintendo DS - melonDS
- fix potential issue generating the config file path under Linux - fix 3D/2D blending bugs under OpenGL - fix potential crash under the software renderer when display capture is used - basic, optional OSD system - add support for setting key mappings to none - add fast-forward and pause/reset hotkeys - fix crash when closing an input config dialog during the joystick mapping process - fix bugs when changing video settings with no game loaded - faster IRQ checks - faster VRAM reads - 3D/OpenGL: preliminary edge marking - 3D/OpenGL: fix fog alpha - 2D: render sprites one scanline in advance (iCarly - Groovy Foodie) - 3D/software: fix rendering of line polygons - 3D/OpenGL: add proper-ish support for line polygons - support multiple joysticks - add support for mapping keys with modifiers - add support for mapping joystick axes alongside buttons, remove hardcoded axis 0/1 mapping - overall better input/hotkey code

WinFellow v0.5.8.1189

No$gba v2.9e

Cemu

DOSBox

melonDS v0.8.2

melonDS v0.8.2

Altirra v3.20

Mesen v0.9.8

mGBA

mGBA

mGBA

mGBA

ColEm v4.7

ColEm v4.7

WinUAE

PCem

iNES

iNES

Hoxs64

Mednafen