Kaillera server:
gs.emu-land.net:27888
Mednafen server:
gs.emu-land.net:4046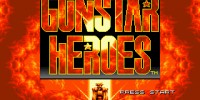 VGB v5.4
18:21, 15-02-2018
Zykon
Обновился эмулятор Game Boy - VGB.
- Added second joystick support to VGB-Windows - Added multiple monitor support to VGB-Windows - Fixed disappearing window in VGB-Windows - Fixed best full-screen mode detection in VGB-Windows - Fixed window flicker that appeared after recent Win10 updates - Fixed DirectInput joysticks support in VGB-Windows - Made directional pads work on XBox gamepads - Switched VGB-Linux to using PulseAudio sound - Updated old PulseAudio driver for 64bit Linux
VGBA v5.8
09:45, 09-02-2018
Zykon
Обновился эмулятор GameBoy Advance - VGBA.
- Added remaining time display during replay - Added shadow underneath the time display - Stopping replay when menu opens on Windows - Fixed replay rollover mechanism
Hatari v2.1.0
18:31, 08-02-2018
Zykon
Обновился эмулятор Atari ST - Hatari.
- Major rewrite of the YM2149 with a new cycle accurate emulation - Major rewrite of the blitter to allow cycle exact bus accesses and correct bus sharing with the CPU - Improved video emulation : bottom border at 60 Hz and number of displayed lines, video counter reloading, timer B in mono mode - Add full support for MMU/MCU RAM configuration at $FF8001, support more RAM combinations (256 KB and 2.5 MB) - Some STX floppy images were not correctly emulated when verify bit was set in the FDC - Support for undocumented STOP behaviour on 68000 - Fix some rare bus accesses order and stack frames - Fix some flags after DIV and BCD instructions - Improved memory timing for 68030 depending on RAM type - 68030 instruction cache was not correctly disabled when EI=0 in CACR - Improve caches accuracy for 68020/30/40/60, with optional MMU support - Large improvements to FPU emulation, including a new softfloat method - MIDI support for Windows and macOS (with PortMidi library) - Add support for AVI files > 4GB (up to 256 GB) - SDL UI shows refresh rate and blitter usage - Several improvements/fixes when using VDI - Improvements/more options for autostart using virtual INF file - Many improvements to debugger, especially for symbols handling - Fix compilation for more targets (ARM64, MIPS, ...)
Cemu v 1.11.4
18:41, 06-02-2018
Zykon
Обновился эмулятор WiiU - Cemu.
- Compatibility improvements - Reduced overall memory usage - Added -nolegacy option for Intel GPUs (disables Intel-specific workarounds) - Minor other fixes and improvements
Stella v5.1
13:57, 05-02-2018
Zykon
Обновится эмулятор Atari 2600 - Stella
- Added "Time Machine" mode, which automatically creates save states in user-defined intervals. The user can navigate back and forth within these states inside the emulator and the debugger - Huge improvements to the disassembly view in the debugger and disassembly files created: - reformatting in debugger for better space utilization - much improved code and data detection - access tracking and indicators for TIA/IO/RAM adresses in disassembly - break vector is tracked (if used) - improved cycle count (page penalties, sums created in disassembly) - improved handling of instruction masking opcodes (e.g. BIT) - Fixed change tracking bug during rewind; changes were accumulated instead of being displayed only for the last rewind step - Extended 'rewind' to take a second parameter which allows rewinding multiple states - Added 'unwind' command, which undoes the latest rewind(s) - Added '<' (unwind) button to debugger - Thumbulator support is not conditional any more - Moved various developer related settings in new Developer Settings dialog. These settings now come in two groups (player/developer) and allow switching all settings at once - Don't trap write accesses to the datastream pointers in CDF and BUS. This fixes -dev.thumb.trapfatal 1 - Complete rework of TV mode and ystart autodetection. The new implementation is more robust and reduces startup time - Add two "grace lines" of black to the top of the frame when autodetecting ystart - Fixed Genesis controller autodetect (Stay Frosty 2, Scramble, etc) - Fixed a bug in ystart autodetection that could cause screen jumps - Fixed several bugs in holdselect, holdreset and holdjoyX commandline arguments; these now work as expected - Fixed bug in TIA collision handling; it is now disabled in VBlank - Improve TIA PF collision handling during hblank; this fixes a bug in Thrust ROM - Fixed wrong display of HM values in debugger after 'HMCLR' has been executed - Fixed bug with the debugger 'savedis' command in Windows; it wasn't actually saving the files at all. This has never been reported before, so I guess it shows how many people use that functionality - The debugger 'savedis', 'saverom' and 'saveses' now save files in a default, user-visible directory (see the documentation for more information). In the case of 'saveses', the filename is now named based on the date and time of when the command was entered - Fixed bug with saving snapshots in 1x mode; there was graphical corruption in some cases. Such snapshots also now include any TV effects / phosphor blending currently in use - Fixed regular-sized snapshots when phosphor effect was enabled; sometimes the image was 'double-blended', resulting in a snapshot that was too dark - Fixed crash when selecting 'CompuMate' as a controller type for a non- CompuMate ROM; this controller type can no longer be manually selected, and will be used automatically used for CompuMate ROMs - Fixed cheat codes, so 7 digits codes are now accepted as described in the doc - Fixed swapped ports being displayed wrong in System Logs and debugger - Added options to erase the AtariVox/Savekey flash memory, either for all ROMs or only the current one. Also added a message (configurable) when the flash memory is accessed - Access to the AtariVox/SaveKey can be signaled with a message - Added new interface palette 'Light' - Frame stats display made transparent. Also it now displays the real frame rate and if the developer settings group is enabled - Improved tab auto-complete in debugger - Added conditional traps and savestate creation to debugger - Added 'Options...' button to debugger which gives access to the options menu during debugging - Added debugger pseudo-register '_cyclesLo' and '_cyclesHi', which give the number of CPU cycles that have occurred since emulation started - Added debugger pseudo-register '_fcycles', which gives the number of CPU cycles that have occurred since the frame started - Added debugger pseudo-register '_icycles', which gives the number of CPU cycles of the last instruction - Extended debugger 'dump' command to take a second argument, indicating the end of the range to dump data - Improved change tracking; more values are tracked and change tracking now works in case of a break too - Added widgets for trackball and SaveKey/AtariVox controllers - Improved emulation of 'FE' bankswitch scheme (no user-visible changes, but internally the emulation is much more accurate compared to the real thing). Related to this, improved the debugger support for this scheme (you can now switch banks in the debugger view) - Added emulation of 7800 initial RAM values and Pause key - Added ROM properties for 'Scramble' ROMs, and updated info for all "Champ Games" ROMs - Added ROM properties for 'Zippy the Porcupine' ROMs, and updated info for all "Chris Spry (Sprybug)" ROMs - Support UNIX style builds (configure / make) on OSX with both XCode / clang and g++ - Fixed error when building with uClibc-ng for ARM (thanks to Sergio Prado) - Updated included PNG library to latest stable version
PicoDrive 1.92.3
14:35, 31-01-2018
Zykon
Обновился эмулятор (Megadrive / Genesis / Sega CD / Mega CD / 32X / SMS) PicoDrive - для PSP
- Fix graphical issues for accurate renderer (e.g.: some Super Street Fighter II backgrouds) - 4:3 screen size option for Master System games (probably in the future, the emulator will decide the parameters as the game)
Hoxs64 v1.0.9.7
17:29, 29-01-2018
Zykon
Обновился эмулятор Commodore 64 - Hoxs64
- CIA ICR interrupt regression fix that was broken in v1.0.9.6 that prevented the game International Karate from working - Fixed audio clock sync that was causing slow downs in windowed mode VBL sync
Перевод Resident Evil: Revelations для Nintendo 3DS
Командой
Failing Forward
при участии сайта
RELive
была переведена игра
Resident Evil: Revelations
для портативной консоли
Nintendo 3DS
.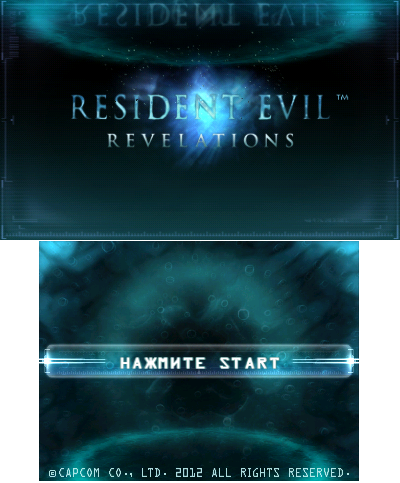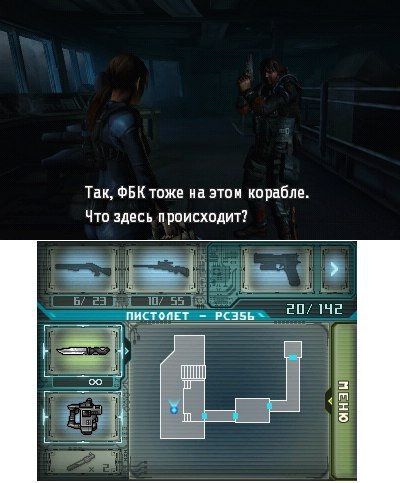 Если вы не пропустили демо-версию "Resident Evil: Revelations", то знали о релизе 28.01.2018. Т.е. сегодня. И вот - момент истины. Релиз перевода последней Resident Evil для 3DS при участии сайта RELive! О их помощи вы подробно прочитаете в новом выпуске "О переводах и технических трудностях" (Который уже доступен), а пока - краткий список того, что было сделано: -Портирован весь текст локализации переиздания. -Перерисованы 3 и 5 текстуры (причины смотрим также в статье). -Местами был переведён заново текст. -Также были переведены Streetpass-миссии. И да - сетевая игра работает, так что не бойтесь заходить в онлайн.
My Nes v7.1.6596
15:39, 23-01-2018
Zykon
Обновился эмулятор NES - My Nes.
- Added support for mapper #163 - Added multilingual interface support - Added ability to render UTF8 texts (in the game browser for non-English game names) - Added support for Game Genie (ability to enter cheating codes for games) - Added ability to change the sound buffer size in the audio menu - Added some video settings for rendering quality and misc - Improved sound configurations, now My Nes sounds better - Removed blipbuffer implementation and replaced it with an implementation of the "Band-Limited Sound Synthesis" algorithm
Библиотека
00:31, 22-01-2018
Kisa
YabaSanshiro v1.3.1
16:50, 21-01-2018
Zykon
Обновился эмулятор Sega Saturn - YabaSanshiro.
- Graphics Emulation Improvement
VirtualC64 v1.6
18:47, 20-01-2018
Zykon
Обновился эмулятор Commodore 64 - VirtualC64
- Metal code has been ported to Swift and internal texture size bumped up to 2048x2048 texels - Texture post-processing has been separated into two phases which can be controlled independently in the emulator preferences window. It is now possible to combine a pixel upscaling algorithm with a texture filtering algorithm which are both run as seperate compute kernels on the GPU. With EXP and xBR two commonly known pixel scaling algorithms have been implemented - VIC-II compatibility has been improved further by Fabio Ritrovato - The VICE color palette has been updated with new RGB values. It is now the default palette - Text snippets can now be dragged and dropped into the emulator window
WinUAE v3.6.0
17:36, 19-01-2018
Zykon
Обновился эмулятор Commodore Amiga - WinUAE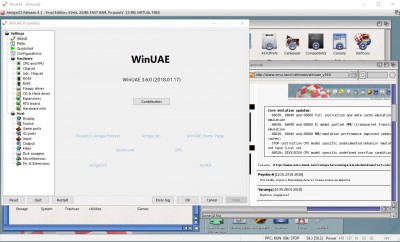 Core emulation updates: - 68030, 68040 and 68060 full instruction and data cache emulation, with or without MMU emulation - 68030, 68040 and 68060 EC model partial MMU (transparent translation registers only) emulation - 68030, 68040 and 68060 MMU emulation performance improved (added extra translation caches) - STOP-instruction CPU model specific undocumented behavior emulated when parameter does not have S-bit set - 68020+ DIVS/DIVU CPU model specific undefined overflow condition N and Z flags emulated - Undocumented 68881/68882 FMOVECR values emulated - 68020/030 BCD instructions undocumented V flag behavior fixed (68000 was already correct) - Optional Toshiba Gary slow (chip ram like) Z2 IO and/or ROM space access speed Emulated hardware expansion updates: - Added Cubo CD32 later revision hardware support, PIC copy protection, touch screen, NVRAM and RTC emulation - Cubo CD32 is now an expansion device, added DIPs, PIC game ID/language and expansion device enable options - A2090 Combitec and MacroSystem 3rd party ROM update/adapter supported - DKB 1230/1240/Cobra and Rapidfire flash rom write support added New emulated hardware expansions: - Ashcom Addhard (SCSI) - Evesham Micros Reference (SCSI) - FastATA 4000 MK I/II (IDE) - Gigatron Arriba (IDE) - Kupke Golem HD3000 (OMTI) - Profex HD3300 (OMTI) - Reiter Software Wedge (OMTI) - Sprit Technology InMate (SCSI) - Music Master dongle Direct3D 11 support implemented: - Requires Windows 7SP1 and later. Windows 7 requires KB2670838 (Available via Windows update as an optional update), Windows 8 and later does not need any extra packages like D3D9 support required - Requires hardware level 9.1 or higher, which means most Windows 7 capable GPUs are supported - All Direct3D9 mode features supported - Variable sync (G-Sync, possibly also FreeSync) supported in windowed mode - Many D3D9 custom shaders are supported automatically, some require manual modifications to work in Direct3D 11 mode Other new features and updates: - Simple box art/screenshot config file support - If Wait for Blitter is enabled and blit size makes no sense, don't wait. Fixes long delay in Vital / Mystic - Added "CIA 391078-01" advanced chipset checkbox. This CIA revision has a bug in IO port output mode, reading output mode port will always read output mode data state. Other models, including original DIP 8520, 391078-02 and Akiko internal CIAs read IO pin external voltage level as documented. This can affect "bad" mouse left button/joystick fire button reading code (not working or stuck button). Used in A600. A1200/A4000 can have -01 or -02 revision - Added ATAPI Tape drive emulation - CD SCSI emulator READ CD-DA and READ CD-DA MSF commands emulated - Expansion device GUI changes are now always activated after hard reset - uaehf.device hardfiles/harddrives unit number is now user configurable - "Include CD and FMV Audio" and/or sound mode change on the fly when CD or FMV audio is playing is now supported - Debugger assembler support (a) and some other misc debugger updates - Optional non-rawinput mouse and keyboard mode is back (-norawinput_all) - Added Misc panel option to show WinUAE in Windows shutdown/logoff screen (Vista or newer) if emulation session is active - JIT Direct is allowed in CyberStorm PPC configuration but it also disables CSPPC MAP ROM hardware feature - Ability to image CHS-only IDE drives using USB adapters that don't support CHS-only drives Bugs fixed: - It was not possible to override Z2 RAM board autoconfig data if board had built-in manufacturer/product ID defaults - It was not possible to change existing path with Select Directory/Select Archive or Plain File buttons - Fixed 64-bit version random crashes that usually happened with some shell extensions - Z3 RAM in manual mode was completely broken - UAE directory harddrive/hardfile KS 1.2 autoboot hack didn't work without extra reset if UAE autoconfig board wasn't first board in autoconfig chain - 68030 data cache emulation corrupted data if write was cached, write size was word or long and address was odd - 68040/060 without FPU: many FPU instruction F-line exceptions generated incorrect stack frames - ECS Denise BPLCON2 ECS-only bits (for example KILLEHB) were masked unless AGA was also selected - Obsolete IDE FORMAT TRACK command fixed - GamePorts panel custom mapping incorrectly parsed joystick autofire state from config file - Directory filesystem ACTION_SET_DATE failed to change date stamp if file was read-only - 68020 memory cycle exact CPU speed slider is again partially working, CPU speed can be reduced but not increased - GamePorts panel custom mapping incorrectly parsed joystick autofire state from config file - uae-configuration joystick port (joyportx) modification only queued but didn't apply changes - uaeserial.device crash fixed. DTR/RTS state now match serial.device behavior when device is opened - Fixed uaegfx VRAM size check, some modes that almost filled whole VRAM didn't appear in resolution list - uaenet.device didn't close low level ethernet handles when Amiga was reset, causing duplicate packets - Bitplane overrun condition triggered incorrectly in rare situation where bitplane DMA is enabled after DDFSTOP on OCS - Tape drive emulation fixes. Fixes Amix install error if last file on tape was selected for install AVI recording bug fixes and updates: - First avioutput recorded frame was sometimes partially corrupted - When saving state with avioutput active: last frame before state save was not recorded - Number of avioutput frames buffered (waiting for compression thread processing) counter was reset periodically which caused lost frames (and leaked memory) in recorded video if CPU was not fast enough - Delay initialization until first display frame or sound buffer recording request comes, previously "before filtering" option may have used wrong display size in some situations - Uncompressed video selection is not forgotten anymore - First frame was not rendered (and also not recorded) if statefile was restored when emulation was already running - If emulator state was changed (debugger breakpoint, statefile save etc..), last frame before state change was not recorded - File splitting (2G limit) incorrectly flushed sound buffers causing random sound glitches - Added -max_avi_size -command line parameter to set split size - If recording was started and GUI was never opened in same session, sound recording rate become 44100Hz, causing AV syncronization issues if real rate was not same

VGB v5.4

VGB v5.4

VGBA v5.8

VGBA v5.8

Hatari v2.1.0

Hatari v2.1.0

Hatari v2.1.0

Cemu v1.11.4+cemuhook

uoYabause(YabaSanshiro) v1.5.1

Stella v5.1

Stella v5.1

Stella v5.1

PicoDrive for PSP v1.92.3

Hoxs64 v1.0.9.7

My Nes v7.1.6596

VirtualC64 v1.6.0

WinUAE v3.6.0

SSF TestVer

WinFellow v0.5.7.1067

kat5200 v0.8.1
»
NES лучшие игры.
03:06
»
Оголить, запаять, джойстик PS2 (Подскажите)
02:29
»
Прошивка Hamy 4 & Magistr Titan 2
02:03
»
Player's Edge Plus настройка mame
01:50
»
Забытые игры 4 поколения (16 bit hidden gems)
01:37
»
Во что сейчас играем?
01:17
»
Kinamania Productions (Dendy Chronicles, На Кухне, Dendy Memories etc.)
00:47
»
[NES/GEN/SNES] Rockman (он же Megaman)
00:39
»
PS ONE Slim из США! А проблемы существуют!
00:08
»
[ALL] CHEATS & MODS
23:13
»
Sega MD2 клон, пропадает цвет
22:53
»
Top Hat Gaming Man и другие хорошие англоязычные обозреватели
22:23
»
[Продам] 3DO, Wii, Playstation 1 (HiFi), GameCube, Sega Saturn, аксессуары, игры
21:24
»
[NES] Топ хороших игр на NES
20:46
»
Собираю новый компьютер.
20:10